Rivijera Paklenica › How to reach us?
Air
Zadar Airport Zemunik (ZAD) is well connected with all larger cities in Croatia and Europe and is 40km away from Starigrad-Paklenica.
www.zadar-airport.hr
Bus
Zadar is the centre of northern Dalmatia and is well connected with all Croatian cities and larger European centres. From Zadar, it is only a one hour drive to Starigrad-Paklenica.
www.liburnija-zadar.hr
Car
You can get to Starigrad-Paklenica from several directions, but the Zagreb – Split A1 motorway is the quickest and the best way to get here. Take the exit Maslenica and continue 10km towards Rijeka. If you are coming from the direction of Rijeka, use the Adriatic main road – State Road D-8.
www.hac.hr
Rail
Zagreb - Knin - Zadar
www.hznet.hr
Distance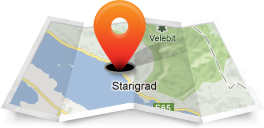 View interactive map!