Rivijera Paklenica › Position
The Paklenica Riviera is situated in the far north-western part of the Zadar region, and in terms of geography, is a part of northern Dalmatia. It stretches along some 20 kilometres of the Adriatic seaboard, under the peaks of Mt. Velebit, Croatia's tallest mountain. Along with Starigrad-Paklenica, the core of the Riviera, the Riviera includes the settlements of Seline, Tribanj-Kruščica, Tribanj-Šibuljina and Tribanj Mandalina. It is located in its entirety in protected natural surroundings.
Both Mt. Velebit and the adjoining coastline, is protected with the status of a nature park. The Velika Paklenica (Grand Paklenica) and Mala Paklenica (Small Paklenica) canyons and the surrounding forests enjoy an even greater level of protection. In 1949, these areas were proclaimed a national park, making Paklenica the second oldest of Croatia's national parks (second only to Plitvica Lakes National Park).
Favourable climatic conditions in this area are characterised by the melding of a mild Mediterranean and a harsh alpine climate. In addition to a great number of sunny days in the year, the air is particularly suitable for persons with ailments of the respiratory system and the heart.
The City of Zadar – the centre of the region – is only 40 km away. Since the construction of the new highway, the Paklenica Riviera is only a 2 hour drive from other major Croatian cities – Zagreb, Split and Rijeka.
5 of the total of 8 Croatian national parks (Paklenica, Kornati, Krka, Plitvica Lakes, Northern Velebit) and 3 nature parks (Velebit, Telaščica, Lake Vransko) are located in the direct vicinity. In addition to road links, the Paklenica Riviera is linked to the rest of the world by air, rail and seaways.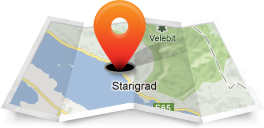 View interactive map!